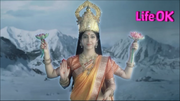 Kamalatmika, or Kamala, meaning the lotus, is one of the ten forms of Parvati or Adi Shakti, the Dasha Mahavidyas (ten great wisdoms). Kamalatmika is said to be the tenth of the Dasha Mahavidyas.
Iconography
Edit
Goddess Kamalatmika is said to be Goddess Lakshmi, but she has four hands, two of her four hands hold lotuses while her other two hands bless and protect her devotees. No stories are related to Kamalatmika Devi.
Similarities and Differences Between Kamala and Lakshmi
Edit
Goddess Lakshmi and Kamala are both the consorts of Lord Vishnu, Kamala is said to be epithet of Lakshmi, the Goddess of Wealth. Both Goddesses are radiant and beautiful. Lakshmi is one of the manifestations of Adi Shakti and Kamala is one of the Dasha Mahavidyas and one of Parvati's forms. When Goddess Lakshmi is seen with Lord Vishnu, she has only two hands. But Kamalatmika is seen with four hands.