Bhadrakali is one of the fierce forms of Adi Shakti.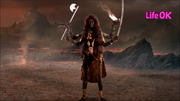 Iconography
Edit
Bhadrakali has four arms, each holding an axe, hook, sword and a flame, dark in complexion and wearing black apparels and a tiger-skin skirt.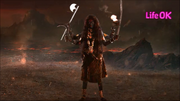 The origin of Bhadrakali starts out when Daksha organizes a prayer ritual and he invites all Gods, Goddesses and princes. But he didn't invite Shiva and Sati because he was jealous when Sati married Shiva at the Swayamvar ceremony. Sati learnt about it and asked Shiva to go with her, Shiva refused, so Sati was escorted by Shiva's troops. When she got to the ritual, Daksha was very angry on seeing her. He yelled at her, Sati tried to make him understand but it was no use. Daksha kept on yelling, Sati got very angry and took the form of the Supreme Goddess, everyone was terrified, the Supreme Goddess introduced herself as the Eternal Power to Daksha and cursed him to be killed by Shiva, even all the Gods, princes and Goddesses. Finally, she gave up her life by commiting suicide by burning herself. A very angry and grief-stricken Shiva learnt about Sati's death and he rendered a terrible "Tandav Dance of Destruction", the more Shiva danced, the more destruction will arise. Later, Shiva pulled two locks of hair and fell it on the ground. One arose Veerbhadra, Shiva's destructive and terrible incarnation, having eight hands holding weapons and a dark complexion. The second arose Bhadrakali, the Supreme Goddess's violent and intense incarnation, having four hands holding a number of weapons and a darker complexion, Shiva ordered them to wreak havoc. Bhadrakali is Veerbhadra's spouse.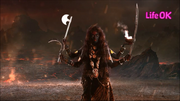 Bhadrakali was a female attendant summoned by Lord Shiva. She manifested from the lock of his hair and was ordered to free Veerbhadra (Shiva's ferocious avatar) from the shackles Lord Vishnu had bound him in. She infused herself into Veerbhadra's body, freeing him from the shackles and he was enabled to kill the demons sent by sage Bhrigu, to protect Daksha's Yajna.