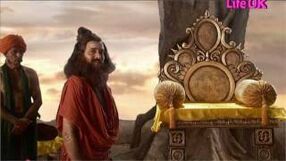 Fearing the aftermaths of the Prajapati's daughter's love for
Lord Shiva
,
Madanike
snaps at
Sati
for the mistake she has committed. Smitten by love for Mahadev, Sati expresses her helplessness over restraining her feelings. Still, warning Sati of Daksh's ire, Madanike agrees to stand by her side.
Rishi Dadhichi
prepares for a special place for Mahadev in the Mahamandal meeting while
Parajapati Daksh
appreciates Dadhichi's efforts. Restless to meet Shiva again, Sati goes to Kailash.
Previous Episode: 34
Next Episode: 36